On January 27, 2009 we have had the worst ice storm in several years. In the days preceding, phrases such as "10-year ice storm" and "the worst storm since '94" have been heard. Some areas have been very hard hit. Based on police scanner chatter northern parts of Christian County are worse off than southern parts. Trees and power lines pulled down and sometimes laying across roadways. Some of the strangest reports coming from the Sheriff's Office are off roads being cleared then more large trees falling minutes after the police pass through the area. Even more, the whole region appears to be sold out of space heaters. The closest city that might have such equipment is Nashville, TN 70 miles away.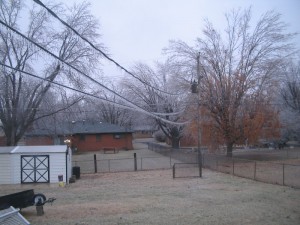 I did not try to travel but I did document the heavy icing around my house. We were very fortunate that no large limbs have fallen near us. Our neighbor has four large maple trees surrounding him, two in his backyard and two in the front yard. Along with a gigantic cotton wood tree. One of the maple trees overhangs our driveway and always threatens to fall on the family vehicles. Given the intense weight of the ice we moved our vehicles into the yard ASAP this morning.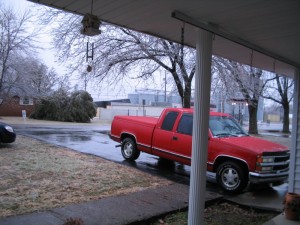 We were fortunate to have never lost heat or power, but Cable TV and Internet have been down all day.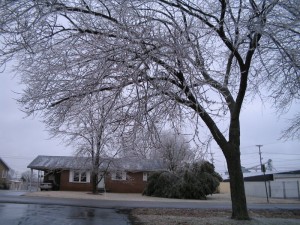 January 27, 2009 – 5:45PM
Internet Withdrawal
The symptoms of this illness are horrific for those afflicted by it. They may include obsessive refreshing of the browser. Power cycling the broadband modem every hour hoping that this time it will work. Obsessive clicking of the router admin interface because those are the only webpages that work. All day I've been missing the presence of HoptownHall but it went down very early today when the ice first began tearing down utility lines. I'd say today will be listed as a historic day in Christian County. Certainly, this ice storm is the equal to any other ice storm in living memory. So to break my obsessive-compulsive behavior I decided to start blogging. I've been listening to the scanner all day and I'm starting to get weary of it. It's creepy how the same problems keep reappearing time and again throughout the day. If a road crew clears a road of trees only minutes later more, bigger trees fall on the same road. If the power utility restores power to an area minutes/hours later lines will be torn down transformers will explode. Phones have been hopelessly clogged, neither cell phones or landlines work.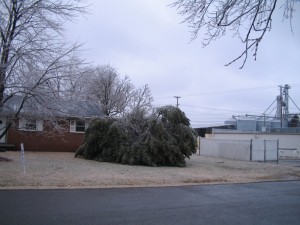 The local radio stations were both damaged namely WHOP and WKDZ/WHVO. WHOP remained on the air, barely, for most of this morning but lost it in the afternoon. While WKDZ made a valiant effort to return on the air later in the day. Right now (7:00pm), WHOP and WHVO are both transmitting at a lower power and I can't get WKDZ at all. WVVR in Clarksville seems to be the only one of my stations that is transmitting normally.