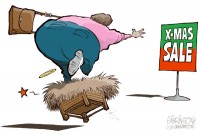 My Pastor at Christian Heights, Rev. Marion, preached against the commercialization of Christmas. During the first part of her sermon, Rev. Marion argues against the 'Creeping X-mas'. The fact that Christmas decorations are put out earlier and earlier every year. I do mean 'X-mas' deliberately. That is Christmas without Christ. The X-mas decorations you see in department stores across the country are populated with Santas, elves, candy canes, and reindeer. If there are manger figures displayed at all The Infant is outnumbered ten to one. I'm afraid that even with reinforcements from Mary, Joseph, the Wise Men, and the shepherds Christmas couldn't win a pitched battle against X-mas on the store shelf. Putting out cheaply made Santa figurines in September is a safe bet because Santa doesn't stand for anything worth fighting for. If freedom… If God… If an idea is worth fighting for then someone will be offended by it.
Later Rev. Marion argues that Creeping X-mas is evidence that people are crying out for God. People are lonely and often the act of collecting more stuff is the method of running away from it. This isn't true for corporations though. The purpose of a corporation is to make money and even better if they make a lot of money. Very rarely do the business decisions in a corporation ever have a moral dimension. Why does business run seven days a week now but didn't years ago? Why do you think more retail businesses are staying open on Thanksgiving? The decision makers at Sears are obviously chasing the almighty dollar as fast as they can go.
Creeping X-mas… because the culture war doesn't stop ever.