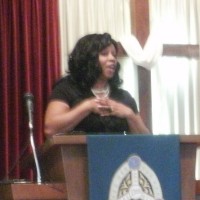 I hope this will be the closest I ever come to professional thievery. Paula Russell from Aaron McNeil House was discovered victimizing the organization she was hired to lead. In the initial report she was charged with stealing only from AMH.
The former executive director of the Aaron McNeil House in Hopkinsville is charged with using funds from the non-profit agency to pay more than $23,000 worth of bills.
Then the next day more details were released saying that Paula Russell has done this before.
It happened 8-years ago and law enforcement and court officials say she was going by the name Paula Nightingale. Russell, or Nightingale, pled guilty in December 2003 to three counts of false bookkeeping and one count of felony theft after being indicted on more than 47 various charges. She was ordered to pay nearly 84-thousand dollar in restitution directly to Pasminco Incorporated.
Christian Heights also had our interactions with Ms. Russell/Nightingale when we collected 1100 units of food for Aaron McNeil's food pantry. On the day when Ms. Russell visited us to receive the donation. She gave the congregation a backhanded compliment saying that she felt welcomed into the church even though CHUMC is 100% white and she is black. It was rude and unnecessary for her to mention it. Her comments reveal what is first on her mind. Are you black or white? Are you the "oppressed" or the oppressor?