Nomen posts a link on HoptownHall to thirty pictures of soldiers in Afghanistan.
OODA

Ok, men, here is a question to test your knowledge of military vehicles. This question is worth….uh…well, just answer the question.

What is the name and function of the vertical member mounted on the hood of the vehicle in photo #5?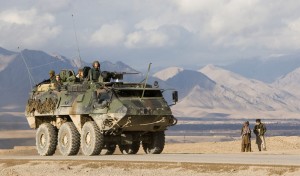 Transplanted Hoosier

Ummm, would their nickname be "sitting duck" and their purpose be "look out"? 8)
Transplanted Hoosier

[…] It reminds me of the thingie that sticks out in the front of the black helicopter at the static display. (I told you I'm not military -here's your proof.) IIRC, that thingie on the helicopter keeps the good guys from getting tangled in power lines. Could this thingie be to keep the good guys from getting "clotheslined" or to get rid of barbwire?
OODA

Ding, ding, ding!

Well done! It's a Wire-strike Protection System (WSPS). It keeps the guys and the guns from being ripped off the top of the vehicle by low-hanging wires.