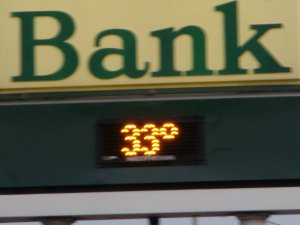 Let's spin the wheel another time, the weather man has foretold that Hopkinsville will have devastating snow fall tomorrow. The winter storm warning published by the national weather service guarantees a minimum of four inches and up to 10 inches of the cold white stuff.
* SNOW ACCUMULATIONS OF 4 TO 7 INCHES ARE EXPECTED ALONG AND SOUTH
  OF A LINE FROM MARBLE HILL MISSOURI TO CALHOUN KENTUCKY. CLOSER
  TO THE ARKANSAS AND TENNESSEE STATE LINES BORDERING KENTUCKY AND
  MISSOURI...AMOUNTS MAY APPROACH 8 TO 10 INCHES...WITH LOCALLY
  HIGHER AMOUNTS POSSIBLE. SOME SLEET MAY MIX IN WITH THE SNOW AT
  THE BEGINNING OF THE EVENT...BUT PREDOMINANTLY SNOW IS EXPECTED.
With that kind of forecast I expect to be building a very fat snowman tomorrow. In my lifetime Hopkinsville has never had 10 inches of snowfall at one time. It'll suck though if after all the hype and scaremongering we only get a measly inch or less.