It's been a year since I started recording sermons for Christian Heights. The Archos 5 has performed this function well over the past year. However, since Rev. Marion started distributing recordings of the full worship service on CD. I have been more concerned about the limits of the Archos 5 microphone. The Archos makes good recordings of a speaker standing near the pulpit but that is not sufficient to make a quality recording of the entire worship service. In June of 2010, a lightning strike short circuited several items in the church including the old sound mixer. The church bought a shiny new Yahmaha mixer with plenty of options to record the output. The new mixer got me thinking about the possibilities.
The digital recorder I ordered should be here Monday or Tuesday.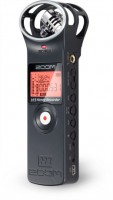 Can't wait to plug it in next Sunday.